In the summer of 2021, I began an ongoing investigation of and partnership with the lemon tree in my backyard. The lemon tree has grown here for many long years, shading the hillside with her boughs and providing nourishment and shelter for the creatures around her. Through my project, I have gained a better understanding of her role in our micro ecosystem via the methodologies of drawing, writing, cooking, and video making. As Astrida Neimanis details in her Hydrofeminism essay, we are all connected to each other and the world around us by the juices within us. I strengthen this flow through Lemon Residency.
The lemon tree is a mother tree. She takes care of many babies. Her branches shelter new life and enclose a nursery of safety for those learning to live on their own, to grow and fly. Her fallen fruit is another nursery for generations of flies, hatching, eating, living, mating, flying, dying on one yellow planet.
This lemon has scars, stretch marks like a mother, her mother the tree. I celebrate her scars that show her swelled with water inside, a golden globe of refreshment.
The smell of lemon is sharp, I feel it tingle inside my nostrils. The smell of lemon is sweet and makes my mouth water. A slice in sparkling water.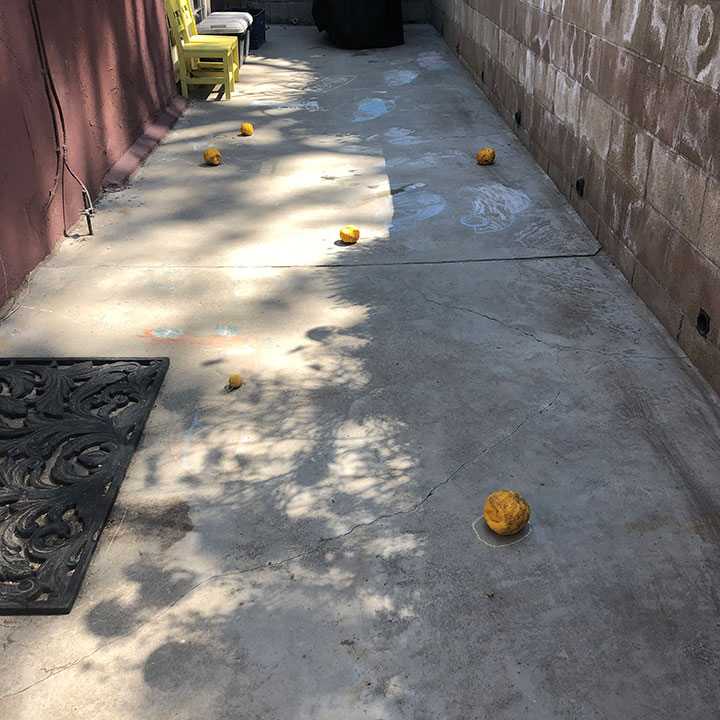 Lemon Residency: Marmalade
The lemon tree suffered through the fall drought, covered with green lemons, leaves growing yellow. She shepherded her children through the dry times, and after our first winter rains in December they burst out into ripeness.
The lemon tree sends out a blaze of yellow energy into the universe. She is tired and wizened from the struggles of the past six months, yet still she is a fierce mother covered with long thorns and crowned with the glory of her ripe fruit. Beautiful, yet sour.
Today I made marmalade, six jars full. Yet there are still more ripe lemons than we can ever hope to eat.